---
In honor of my favorite genres here are my ten favorite mysteries or thrillers that I didn't write.
1. Todd Mills series by R.D. Zimmerman
This series is one of the first I read when I discovered M/M. The first book,
Closet,
is about the death of reporter Todd Mill's lover and his subsequent outing. The series follows Todd's fall from fame and climbing the career leader again while navigating being out, and a romance with a police detective. All the books have well-written mysteries, and though the second book,
Tribe,
wasn't as good, the following stories were all excellent. I wish Zimmerman would've written more.
2. Benjamin Justice series by John Morgan Wilson
This series are hard-hitting and angst-filled. Wilson throws more shit at his character than I've ever seen before. If you're looking for an HEA these books are not for you, but if you enjoy a strong mystery with an incredible main character and excellent supporting cast I would highly recommend this series. Cristian Flesh was inspired by Justice, but I would never put Cristian through what happened to Justice.
3. Alex Cross by James Patterson
I used to love everything written by James Patterson, especially his earlier works. Though I think now his books seems rather cookie cutter and formulaic, it doesn't take away from the thrilling adventures Alex Cross had in the first several books. He is a unique and interesting character that many authors have attempted to copy since then.
4. Adrien English by Josh Lanyon
So fair warning here, I am a huge fan of Josh Lanyon. I could probably fill this list with just his books, but I'm only going to list two. The five Adrien English books are simply amazing. The tension between Adrien and Jake drove me nuts. Half the time I wanted to kill Jake, the other half I was hoping he'd pull his head out of his ass. Adrien was no innocent either, often making unwise decisions. The mysteries were all solid and well plotted. A stellar example of how to do it right.
5. Dangerous Ground by Josh Lanyon
I've been a fan of these books since the first story appeared in the
Hostage
anthology published by MLR Press. I love Taylor MacAllister and Will Brandt for so many reasons. Their constant push-pull is both aggravating and thrilling at the same time. The mysteries Josh creates for them have all been unique not just from Josh's other books but also from others in the genre.
6. Quake by Richard Laymon
This one isn't a mystery but a totally unique tale of what people would do in the event of a cataclysmic earthquake. There are family members doing whatever it takes to get back together as well as one of the creepiest characters I've ever read, a peeping tom named Stanley who uses a man trapped naked in a bathtub to his voyeuristic pleasure. Laymon's tales are creepy and icky at times, but he writes like no one else.
7. Life Lessons series by Kaje Harper
I loved the coupling of cop Jared MacLean and teacher Tony Hart from the get-go. The way they work together not only with the mysteries but also in their personal lives and the family they form is exemplary. I'm not usually a fan of stories that shoehorn kids into the plot just for the sake of it, but it worked in this series. Jared is a single father who doesn't see his daughter very often, and Tony ends up becoming an adoptive father himself. Tony loves Jared but hates that Jared is not out, not a unique plot point in this genre, but Harper managed to make it distinctive. And the courtroom scene…OMG. So emotional.
8. Intensity by Dean Koontz
An awesome thrilled by one of the masters of terrors. Koontz's monster this time isn't an otherworldly creature, but an evil serial killer named Edgler Foreman Vess. The hero of the tale is a young woman named Chyna Shepard. At first her goal is to get away from Vess, but she eventually decides she can't let him kill anyone else. It's cliché, but this kept me on the edge of my seat for the entire tale.
9. Psycop series by Jordan Castillo Price
Another genre classic. Vic and Jacob are another of my favorite couples and not just because of the mind-blowingly hot sex. Though I don't love the later books as much as the first, they are all excellent reads. The second book,
Criss Cross
, involves a succubus and has one of my favorite scenes ever.
10. Matter of Time by Mary Calmes
Though not truly a mystery, Jory gets himself in more trouble than anyone I've ever seen and definitely needs the help of his lover cop and on again off again boyfriend, Sam Kage. The real mystery would be how Jory survives so many scrape-ups.
Runner-ups:
Skyler Foxe by Haley Walsh
Holmes and Moriarty by Josh Lanyon
---
About the Book: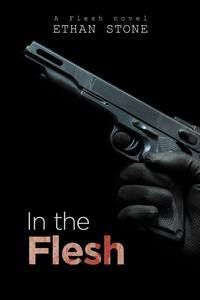 Reno Detective Cristian Flesh is an out and unashamed cop, but his slutty ways might be his downfall. Christian lives by a strict set of personal rules, preferring hook-ups and anonymous encounters to committed relationships. His guidelines work for him… until one of his tricks is murdered and he becomes the prime suspect.
Leave it to handsome lawyer Colby Maddox to save Christian's life. He takes the case and the attraction between them is quick and undeniable. After several passion-filled encounters with Colby, Christian unexpectedly wants to break all his rules. However, before they can contemplate a future together, they'll have to clear Christian's name and find the real murderer.
2nd Edition
Buy From: Amazon (UK) | Amazon (US) | DSP Publications | OmniLit


Contest:
Ethan is giving away a eCopy of a backlist. Leave a comment to be entered to win.
Tour Stops: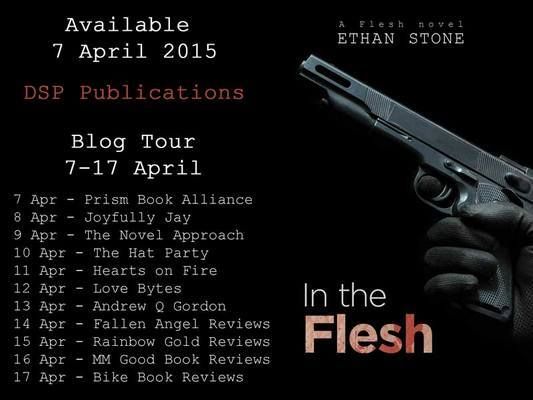 About the Author:
Ethan Stone is an out and proud gay man. Which is fairly new in his life, the out part, not the gay part. He's been queer his whole life, though he tried to deny it for years with a wonderful woman. The years in denial weren't all bad, he has two amazing kids out of it. His son is a teenager and his daughter has made him a grandfather, three times over. A way too young grandfather.
Ethan has returned to Oregon after almost a decade in Nevada. He no longer has a day job and is doing his best to make a living at this writing thing. If he can't make a living, he at least wants to support his Mt. Dew and beef jerky addictions.
Ello ~ Email ~ Facebook ~ Google+ ~ Twitter ~ Website